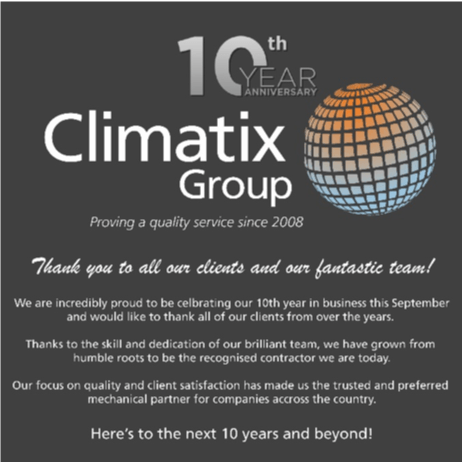 They say time flies when you're having fun and we can't quite believe it has been ten years since the conception of Climatix Group: HVAC Installation, Servicing & Maintenance.
The company started under the name of Climatize UK Ltd back in 2008 where we were primarily a provider of air conditioning service, repair and small installations.
From our humble beginnings, we have grown and branched out to successfully provide the full range of mechanical building services.
Through our Projects Department, we have worked on some of the most prestigious renovations and build projects in Yorkshire and around the county and continue to provide innovative design and cost-effective solutions to our clients.
Our HVAC Installation, Servicing & Maintenance department focuses on customer satisfaction and puts our clients' needs at the centre of everything that we do. Our aim is to provide a trusted and reliable service for our clients, taking care of all their mechanical building service requirements enabling them to continue focussing on their business.
We are proud to be recognised for our quality, technical design and our 'no drama' approach to every job we undertake, whether it be a small repair or a multi-million pound project.
Our continued success is, in no small part, due to the role played by our excellent team of engineers. At Climatix Group we believe that the direct employment of all trades ensures that we can continue to provide quality workmanship for competitive prices. Our ethos is to invest in our workforce and recruit as much based on attitude as we do on skill set. Frequent training and personal development for our engineers ensures that they are up to date with all the latest techniques and are supported in their desire to improve and expand their knowledge.
Thank you to everyone who has been a part of Climatix Group Ltd for the last 10 years. We look forward to building the future with you over the next 10 years and beyond.